10 ways to Speed up your PC | Tips By Microsoft & Us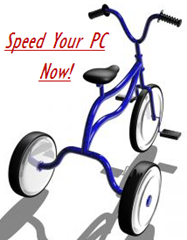 Everyone of us wants a speedy PC which can perform all actions without any hastle, but for that you have to Tweak your windows and maintain it to keep it running smoothly and fast.
Here are the 5 major tips recommended by Microsoft to keep your Windows performance better.
Follow Our Useful Tips:
Clean Out Windows Prefetch for Faster Startup – Goto C:\WINDOWS\Prefetch and delete all files inside this Folder ( Windows expert Ed Bott explains it )
Clean Temporary Files – Open Run > Type %temp% and delete all files inside this Folder
Cleaning the Registry Improves Performance – Use Free App " CC Cleaner "
Defrag your Windows time to time – Use Free App JkDefrag GUI ( Defragmentation Application that has a screensaver mode )
Disabling Services not in Use – You can identify or disable those services by opening msconfig.exe and checking the box for "Hide all Microsoft services" on the Services tab:
Reduce the Startup Programs – This will make your PC load faster by opening less programs at startup. This can be done by opening msconfig.exe and disable unused entries under Startup menu.