Collection of 'Best 20+ HD Wallpapers sites' [Featured]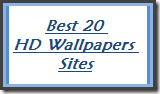 I am a big fan of HD Wallpapers as they make our desktop cool and provide peace to our mind. So today, I have posted a collection of 20 Wallpapers sites which are one of the best ones and provides you awesome HD Wallpapers for Free.
Please have a look at these great sites and you will surely love them.
Click on the images to link to these sites.


       
     
Some more nice websites are:
>>  See our full collection of Amazing wallpapers in HD Wallpapers Section
PS: Stumble if you like this post