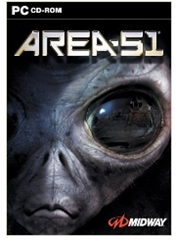 Area-51, developed by Midway Studios Austin and published by Midway for PC in 2005, PlayStation 2 and Xbox is a first-person shooter (FPS) genre of video game, and is a loose remake on the 1995 light gun video game of the same name.
In the gameplay, players control Ethan Cole, a HazMat operative voiced by David Duchovny sent to the infamous base to investigate some manner of viral outbreak.
Midway has made the PC version of Area- 51 available for Free download. The full version game of Area – 51 has no time expiration, but it's sponsored by advertising.
Direct Download Links: midway_area51.exe (Game Daily)  
[ Size - 1.93GB ]
Related Posts: