TuneUp Utilities 2008 is an advanced software to optimize your Windows and increase your PC performance. This is all-in-one to utility to tweak and enhance your windows. It optimizes the performance of your computer, corrects problems and lets you easily adapt the system to your needs.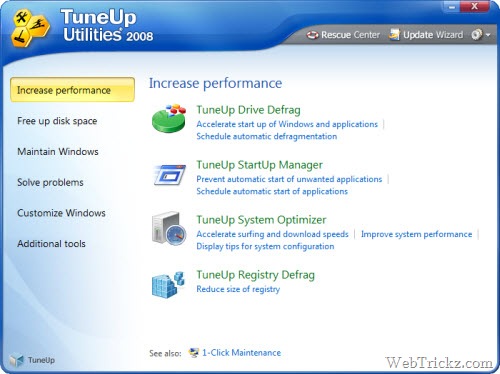 Main Features Include:
TuneUp Start page - Intuitive Layout, Easy to Use
TuneUp Speed Optimizer – Intelligent, Powerful Utility for any User Skill Level
TuneUp 1-Click Maintenance - Automatic, Fast Optimization
TuneUp Drive Defrag - Intelligent defragmentation with new progress display
TuneUp System Control - Supports Opera
TuneUp Uninstall Manager - Intuitive uninstall options
TuneUp Startup Manager - Increases the speed at the start-up of your PC
TuneUp Styler - Expanded PC style options for Windows Vista (32/64 Bit)
TuneUp Registry Cleaner - Powerful tool with in-depth view of your PC registry
Now you can get the Full version of TuneUp Utilities 2008 absolutely Free. This offer is meant for chip.de users but anyone can make use of it. The original offer provides you the German version of TuneUp Utilities 2008.
But you can get the English version by following the simple steps below:
Download TuneUp Utilities 2008 (English Version)
Install TuneUp Utilities 2008 and run it.
You should be prompted to either use the trial or enter a registration code.
Register TuneUp Utilities 2008 with the following serial code (this serial code comes in the download from Chip.de):
Product Key: RFEAH-CDXKX-UMFBW-GSCES-YFWCM-WUHWB
Your registration name can be anything.
Enjoy Free Full version of TuneUp Utilities 2008.   via   [dottech.org]
Related Posts: