Grooveshark is one of the most popular and my favorite Online Music Service where you can listen music online for Free in best audio quality. Users can listen to variety of music from Hollywood, Bollywood, latest albums, tracks, instrumental, Rock, Pop, Classical and more; absolutely Free and without any registration at Grooveshark.com.

Though, one can always listen music online at Grooveshark but you won't be able to download it for Free. That's no more the case, I've figured an easy and 100% working trick which lets you Download any song or track Free from Grooveshark.
Follow the steps below to Download MP3 Songs Free from Grooveshark:
1. Make sure you've Mozilla Firefox browser installed. (Also works with IE)
2. Download Orbit Grooveshark downloader and install it. Close all browsers before installing and make sure the integration with Firefox option is checked while installing).
3. Now open Firefox and you will see a new add-on 'OneClick YouTube Downloader' been added to Extensions. This extension is very necessary to perform the required task.

4. Open http://listen.grooveshark.com in Firefox, search for a song, add and Play it.
5. Click the Recorder icon (when it's blue & green in color). You'll see the tracks listed which are being played. Click the "Record it" button. Let the recording complete.

Note - Make sure to click the PLAY button and let the track play. Please do not pause or stop the music until recording is completed.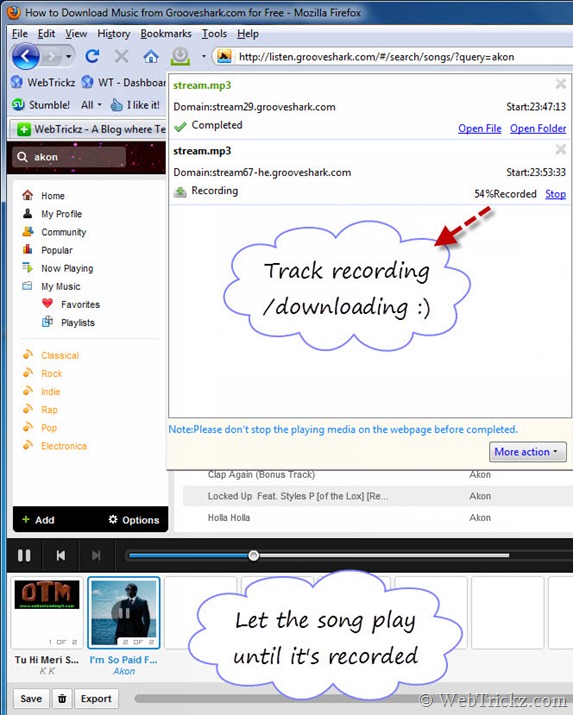 The song will be saved as MP3 in full length on your PC after the recording is completed.
Also, the track is downloaded in its actual bit rate with best sound quality and retains the title, artist name and album name of the particular song.
This guide looks lengthy and uneasy but it is really very easy and works great. Hope you'll like it and find it useful. Do share your views via comments.
Update – View the below video in full screen (in 480p):
Disclaimer: This tutorial is not illegal in any sense and is for informational purposes only.
Related Posts: