If you want to keep your URL's OR web links private while sharing them on the web, there here are 2 great services which can do this task easily. They will shorten your long links to smaller URL's while making them password-protected.
1) Tini.us – This is simply an awesome service as it provides various cool features to choose from. It can shorten long URL's and password-protect them too.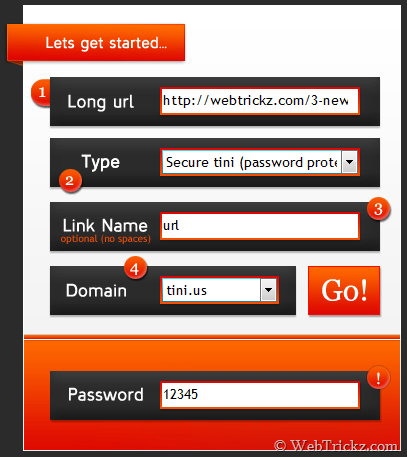 Exiting Features of Tini.us:
This service includes 4 types of features. You'll need to choose the Secure tini type to make your tini url's password-protected.

Choose an optional link name to make short links even more easier to remember.
Select between 3 short domain names.
The cool User Interface of tini.us beats any other URL Shortening service available.
Password-protected Short URL generated using tini.us –   [Password – 12345]
2) 2pl.us – This service also performs the same task as the above one does.

When someone opens a password-protect URL or link he will see the message as:

Password protected shortened URL using 2pl.us: http://2pl.us/url  [Password – 12345]
In it you can add an ! at the end of the URL to enable preview before redirecting like:
http://2pl.us/url!
Both these services also lets you create short links without using password-protection feature.
>> Hope you liked these 2 cool services which do a great job for Free.