Previously, I shared a post on 15+ URL Shortening Services/Bookmarklets discussed. Now, I've searched another 3 cool services which provides the shortest domain name for your long web address links.
Have a look @ them below:
1)TweaK is a great and free URL shortening service, which includes a real working Dot TK domain name. It is potentially the shortest URL shortening service, which uses domain name itself as a URL shortener.

Difference between TweaK and other URL shortening services:

Original URL: https://webtrickz.com/how-to-upgrade-windows-7-beta-to-windows-7-rc-build-7100/
Shorten URL: http://0v2hh.tk
TweaK also lets you preview and find out where any TweaKed address will take you without having to visit it. To do this, Simply add a slash hyphen (/-) to the end of the domain. On opening, you'll be taken to a preview page telling you where the link goes. eg: http://0v2hh.tk/-

You can also tweet the shorten URL from that page only. Dot TK Development Team is currently working on a Bookmarklet and Firefox Plugin for TweaK.
Thanks, Pratyush for suggesting this great service.
2) u.nu – u.nu is probably the shortest URL shortening service ever. It does a great job by generating very tiny links which are too easy to remember.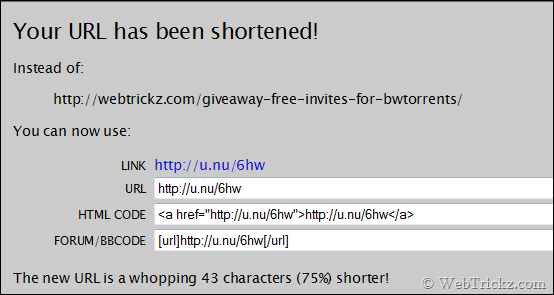 It doesn't use look-alike characters, such as l, 1, I, 0, and O. u.nu isn't picky about upper- and lower-case, so you can easily read your URLs to someone over the phone, or send them via SMS.
3) bit.ly – Another link shortening service. There's also a bookmarklet for it. Just drag it to your bookmarks bar and use easily.

4) Make your own URL shortening service – Amit Agarwal describes a cool trick to make your own URL shortening service in just 3 steps.