In case Windows is not booting or showing some error while booting, it needs to be repaired using a Windows installation disc or system repair disc/recovery disc.
Microsoft has added Recovery Options in Windows 7 by default, which allows users to repair their Windows 7 computer easily without requiring any extra stuff. System Recovery Options get installed with Windows 7 on your computer's hard disk.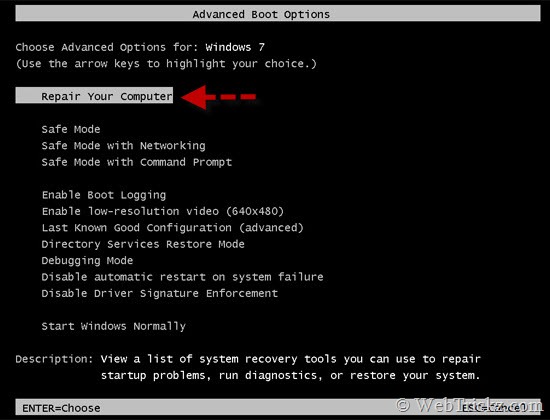 To access Advanced Boot Options menu in Windows 7, turn on your computer and press the F8 key before Windows starts. Chose "Repair Your Computer" which shows a list of system recovery tools you can use to repair startup problems, run diagnostics, or restore your system. System Recovery Options offers 5 recovery tools namely: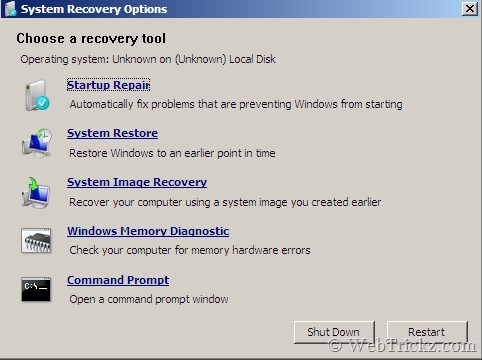 Startup Repair – Fixes certain problems, such as missing or damaged system files, that might prevent Windows from starting correctly. Startup Repair scans your computer for the problem and then tries to fix it so your computer can start correctly.
System Restore – Restores your computer's system files to an earlier point in time. It is a way to undo system changes to your computer without affecting your personal files, such as e?mail, documents, or photos.
System Image Recovery – You need to have created a system image beforehand to use this option. A system image is a personalized backup of partition that contains Windows, includes programs and user data, like documents, pictures, and music.
Windows Memory Diagnostic Tool – Scans your computer's memory for errors.
Command Prompt – Advanced users can use Command Prompt to perform recovery-related operations and also run other command line tools for diagnosing and troubleshooting problems.
Select your preferred tool and start repairing Windows 7. Hope this tip was helpful.