[email protected] CD/DVD RW Eraser is free software, particularly designed to erase re-writable media like DVD-RW, DVD+RW, or CD-RW to clear old data from the discs.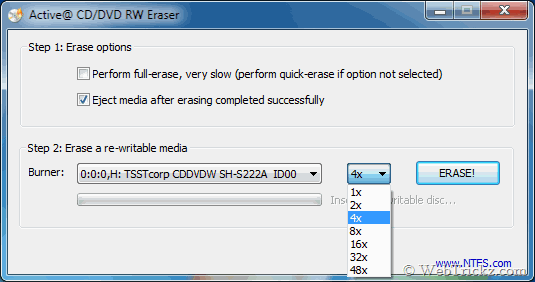 It is small and easy to use tool which provides Two erasing methods:
Quick Erase – The disc's structures are changed on drive level so that a drive sees the disc as blank media.
Full Erase (Secure method) – The complete surface of the disc is over-written with a neutral pattern. The result is that all data is now cleared forever.
To erase a DVD or CD media:
Choose your erase method, In Quick mode (no option is selected). Insert a re-writable DVD or CD, verify Burner type and speed and click the ERASE! button.
Download Here  (827 KB)