Ad Destroy 6.0 is a handy utility to tweak and remove advertisements from Yahoo messenger chat client. Users can easily enable and disable various settings, by simply checking the desired boxes and patching Yahoo messenger 10.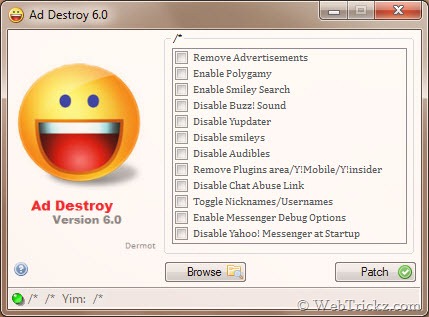 Ad Destroy 6.0 Features:
Remove Advertisements
Enable Polygamy
Enable Smiley Search
Disable Buzz! Sound
Disable Yupdater
Disable smiley's
Disable Audibles
Remove Plugins area/Y!Mobile/Y!insider
Disable Chat Abuse Link
Toggle Nicknames/Usernames
Enable Messenger Debug Options
Disable Yahoo! Messenger at Startup
Ad Destroy 6.0 is available in 32-bit & 64-bit, and officially supports Yahoo messenger 10.
To use it, browse and select the yahoo directory (Default location is C:\Program Files\Yahoo!\Messenger\) and click Patch button.
Download AD Destroy 6.0 (32bit)   via
Also See: