The popular AdBlock add-on for Firefox has now been added to the Chrome extensions gallery. Ad Blocker for Chrome blocks all advertisements on all web pages. It automatically updates your browser with additions to the filter.
AdBlock settings can be easily customized from Tools > Extensions > AdBlock Options. You can add filters for additional languages from its options menu.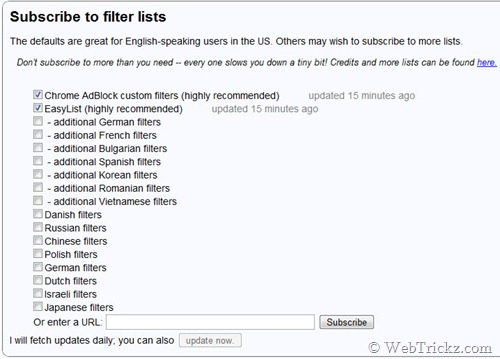 Features:
– Block an ad that the filters missed – Press Ctrl-Shift-K (think "Kill!") Click the ad, Slide the slider until the ad is blocked correctly on the page. Click the 'Looks Good' button.
– Don't run AdBlock on specific domains – Press Ctrl-Shift-L (think "Live!") on a page to keep AdBlock away from running on that page's domain, making it Whitelist.
To add the AdBlock button next to the address bar, click Install on the Browser Button for the AdBlock page. To remove the button, right-click it and choose Disable.
>> AdBlock Extension for Chrome
You may also want to try AdThwart which is also a good alternative to it.