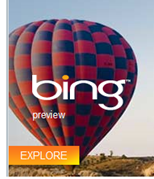 We have already discussed as How to Set 'Bing' as the default Search engine in Firefox, Chrome & Internet Explorer.
In the Previous method, an add-on was required in order to add Bing to the list of search engine providers in Firefox. But now, I've found a simple way that lets you add Bing search to Mozilla Firefox without using an add-on.
How to Add Bing Search to Firefox:
1. Just open your Firefox browser and open www.bing.com
2. Now you'll see an option 'Add Bing to your browser' click on it.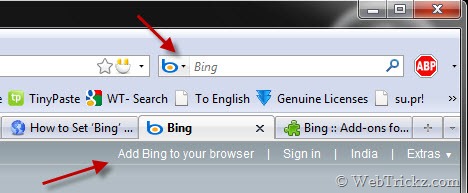 A dialog box will be presented as shown: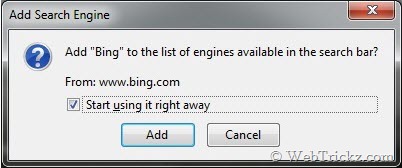 3. Tick the checkbox and click Add option. Now Bing is set as your default search engine. You can switch between other search providers anytime.
An official Bing add-on from Microsoft is also available to do this same task.