Better late than never – This implies to Twitter who has finally introduced the much needed 'Follow' button for websites and blogs that lets interested people follow up your twitter account instantly directly from your site's webpage. Previously, twitter launched the Tweet button which was highly significant and now Follow button which is equally important to gain following. Until now, the only way to follow any twitter account was by visiting their twitter profile page and click the Follow button. But it's much easier now!
From Twitter's official blog post:
When you follow interesting accounts on Twitter, it's easy to stay connected with what's most meaningful to you. Today we're excited to launch the Follow Button, a new way to discover and instantly follow Twitter accounts directly from the websites you visit everyday.

Using the Follow Button is as simple as a single click. You can also see the profile and latest Tweets of the account you want to follow by clicking the username next to the Button.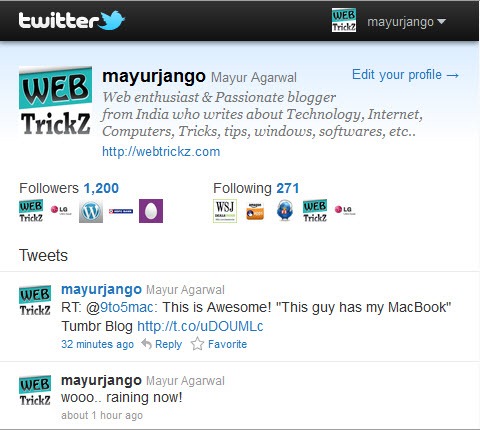 The Follow Button is a small widget which allows users to easily follow a Twitter account from any webpage. The Follow Button uses the same implementation model as the Tweet Button, and its integration is just as simple.
Twitter's New Follow button is quick and easy to add, just visit the page: . Configure the button, preview it, and add the javascript based HTML code to your website. You can chose a background color, show follower count and select from the several languages listed there.
via [Twitter Blog]