Adobe Flash Player uninstaller is a handy tool which allows users to easily uninstall the Adobe Flash Player plug-in and ActiveX control, if they are experiencing any problems. To completely remove Adobe flash player, follow the steps below:
1. Download the Adobe Flash Player uninstaller:
2. Quit ALL programs – These include web browsers, instant messaging clients such as AOL Instant Messenger, stand-alone SWFs, and projectors. Check the Windows system tray to make sure no programs are still running. If any programs are using Flash Player, the uninstall will complete but some files may not be deleted. If you mistakenly leave any program open, close all programs, and run the uninstaller again.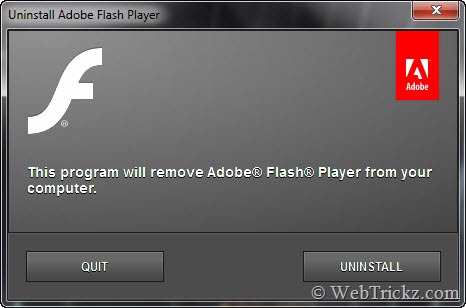 3. Run the uninstaller. This will remove all versions of Adobe Flash Player from all browsers on your system.
Note: Internet Explorer users may need to restart PC to remove all Flash Player files.