AirDroid is a great and amazing app for Android that offers a simple, quick and most efficient way to manage your Android device wirelessly using a web browser on your computer. It frees you from the hassle of using USB cable or a card reader to manage the stuff on your SD card. AirDroid is smart Wi-Fi based file manager that something Google hasn't offered yet but would most probably integrate in near future.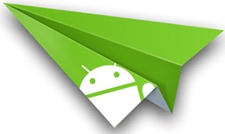 AirDroid is a fast, free and a must have app for Android users. It works flawlessly and is a lot easier to use than other similar wireless file sharing apps like Samba and SwiFTP. Besides making it convenient and easy to manage and transfer the data between Android phone and PC over Wi-Fi, it delivers several brilliant features as well. The app boasts a beautiful and simple interface, supports Android 2.1 or later.
To Wireless Remote Control your device, just launch the app and Start. An IP address is listed that you need to visit in web browser on your desktop computer (Windows, Mac, Ubuntu, etc.) and input the dynamic password generated by AirDroid to login. There is also an option to set a Pre-defined password that is disabled by default but can be enabled from the Settings. This makes it incredibly easier to wirelessly connect the Android device and computer, connected to the same Wi-Fi network.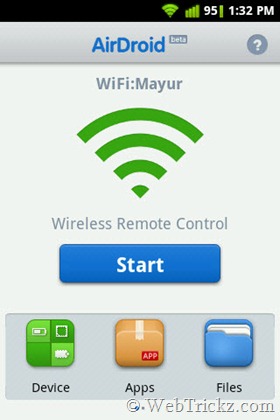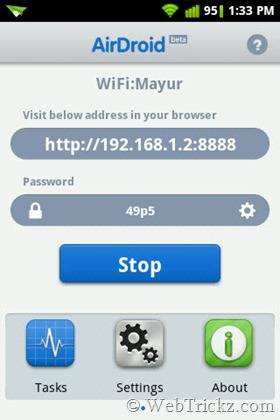 The Web Desktop of AirDroid is far more impressive, with a cool and awesome interface that works just fantastic. One great feature is the ability to sent SMS text messages, reply to messages and forward them to a group of people directly from the browser. It even shows the Internal and SD card storage info of phone, Wi-Fi, network strength and percentage of battery remaining.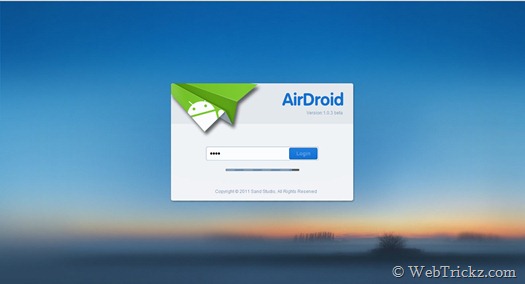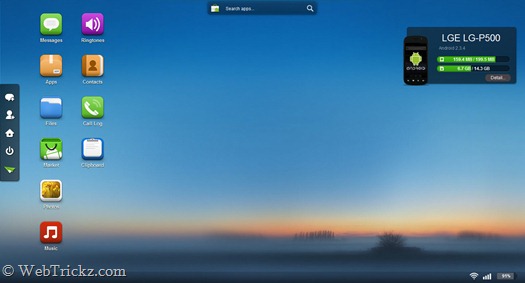 AirDroid seamlessly performs a variety of tasks. You can,
Browse and manage entire SD card directory, including the files and folders.

Transfer files between Android devices and computers via Wi-Fi: Cut, copy, paste, search, rename or delete files on the SD card. Works like Windows explorer.
Read, Send, forward or delete SMS messages.

Install, Uninstall, Backup (export), search Apps and does batch processing.

Manage Music Files – Import, Export, Delete, Play, search, or set audio as phone call, notification and alarm ringtones. Option to sort music by songs & album. ID3 tags, file size, track length, etc. is also listed.

Explore Camera Photos (image thumbnails supported) and Images – Preview, delete, import, export, set as wallpaper, search photo album and see photos slideshow. Image name, dimension and file size is also listed.
Group, create Contacts, edit, search and delete contacts. See call log of a particular phone number and send a text message.

View and delete Call Logs – Individual tabs for Incoming, Outgoing and Missed calls.

Share Clipboard Text between desktop and phone – Type lengthy text comfortably using your desktop keyboard and share it from phone.

Import, Export, Delete, Search, Play, and set Ringtones for phone calls, notifications and alarms.
Moreover, AirDroid on phone offers below listed features:
Device Status – Check Real-time ROM, SD Card, Battery, CPU and RAM status report, and one-tap 'Release Memory' option to boost memory.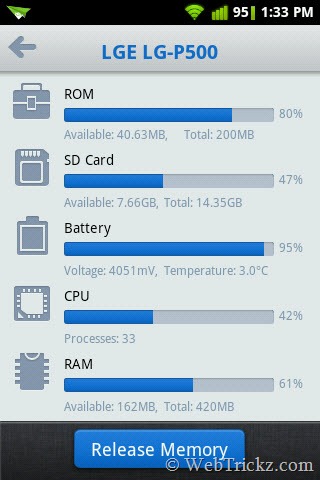 Tasks Manager – Kill running apps to free memory, batch operation supported.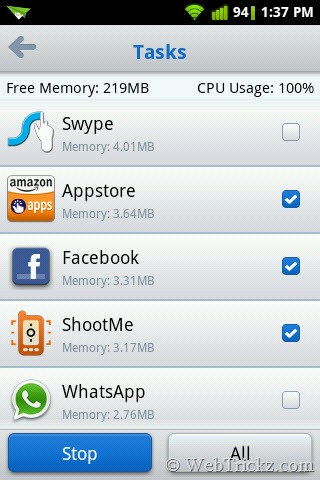 Apps Manager – Uninstall, or check details of installed user and system apps.
File Manager – Cut, copy, rename, send/share, delete, sort and create folders.
Note: Use recent version of Google Chrome or Firefox browser for best performance.
Video – AirDroid in Action
We really liked this app! Do check it out and share your views below. 🙂
Download AirDroid [Android Market]