Bharti Airtel has now introduced their 3G service for regions of UP West and Uttarakhand. Airtel 3G services are already available in 31 cities & towns across India and have plans to roll out 3G in 30 towns in the next 180 days. Users don't need to change their SIM card to enjoy Airtel 3G services but you must have a 3G handset with HSPA/HSDPA enabled to get the best experience.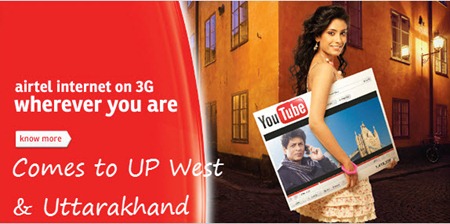 Below is an excerpt from their official press release:
Bharti Airtel 3G service comes in UP West and Uttarakhand

– Lights up key cities of Dehradun, Agra and Meerut –

With Airtel 3G services, customers can now enjoy high internet speeds and access a wide array of capabilities like video calling, video talkies, Mobile TV – all through the mobile device
Plans to bring 3G services in 30 towns in next 180 days in next phase
To join Airtel 3G services – customers can visit http://www.airtel.in/Airtel3G/ call 12134 (toll free) or SMS '3G HELP' to 121

Meerut, 20th April, 2011: Bharti Airtel, India's leading Telecommunications Company, today announced the launch of its 3G services in UP West & Uttarakhand, lighting up the key cities of Dehradun, Agra and Meerut to begin with. This will be followed by a rollout reaching 30 towns in the next 180 days. In order to enable the customer to experience the Airtel 3G advantage, 11 3G Experience Zones have been set up in Dehradun, 12 in Agra and another 12 in Meerut.
Airtel 3G Tariff Plans for UP West – Agra, Dehradun, Meerut