Airtel DTH just announced that all of their Digital TV High Definition (HD) set top boxes are now 3D ready. 3D is an advance technology, now stepping slightly in India as some big TV manufacturers like Sony, Samsung, LG have started producing 3D LED TVs to bring an awesome 3D cinematic experience directly at the living room of your home.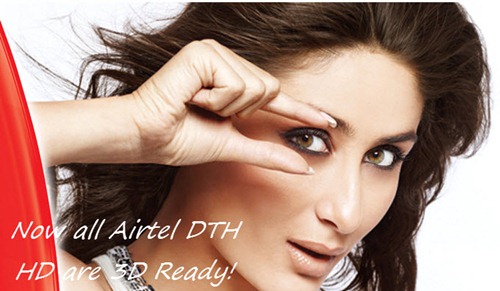 If you already own an Airtel DTH HD STB, then you don't need to get a new HD box because Airtel has enabled 3D signals, both for their existing and new HD customers. However, to view 3D content you must have a 3D ready TV.
Here is their Official Press Release:
New Delhi, April 21, 2011: Airtel digital TV- the DTH service from Bharti Airtel has announced that it all its High Definition (HD) set top boxes are 3D ready. The initiative reinforces Airtel digital TV's focus on innovation and technology as the cornerstone of its strategy of bringing in the best for its customers.

The process of enabling all HD set top boxes on Airtel digital TV's network to process 3D signals is now complete, enabling both its existing and new HD customers to be able to view 3D content.

With LCDs expected to contribute over to 40% of TV sales this year and increasing in the next few years and the growing acceptance of HD in India, clearly show that the consumer 'wants' to be at par with globally evolving entertainment standards. 3D TV is firmly established as TV technology in Europe, the US and Far East Asia. The move to upgrade all HD customers will be yet another differentiator that will ensure Airtel digital TV customers are future ready.

Airtel HD STB also has the following features:

Mind-blowing HD picture clarity with the highest possible resolution of 1080×1920 (2.07million+ pixels with 5 times sharper picture than Standard Definition).
Dolby Digital Plus 7.1 surround sound for theatre like experience right in your living room.
Wide aspect ratio of 16:9, better suited for our eyes which have more horizontal than vertical span.
HDMI output to get the best HD signals to your HDTV.
MPEG-4 DVB-S2
Universal remote
Blockbuster movies, interactive services like i-Darshan, i-Goodlife, i-Learn, i-Astro and i-News and an array of thrilling and exciting games.
Multilingual EPG

Note: Only customers with 3D ready TVs and the necessary equipment will be able to view relevant content in 3D.