An exciting news is here for all Airtel Broadband users. Recently, Bharti Airtel has made an official announcement to double the speed for its Broadband customers at no extra charge.
Airtel is upgrading speeds of all its existing customers (on 64, 128, 256 Kbps) to a minimum of 512 Kbps. Further, customers currently on 512 Kbps plans and 1 Mbps plans will have their speeds doubled to 1Mbps and 2Mbps respectively. The upgrades come at no extra cost to existing customers and will be completed by June 2010 pan India.
Airtel also announced the launch of 'Impatience Plans' – Offering 4 Mbps speed plans starting at Rs. 899/ month.
This is really an exceptional move by Airtel to delight and maximize its subscribers, and a challenge to other telecom service providers in India.
Update (March 31) – I'm from UP (W) with an Airtel 256Kbps Unlimited plan. I'm delighted to tell, today my broadband speed got doubled from 256 kbps to 512 kbps for Free. 😀 Check the below screenshots for proof: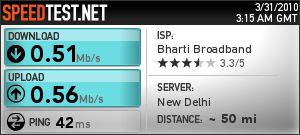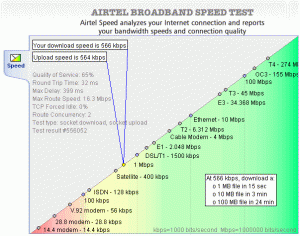 Share your views, whether your speed has be upgraded or not?