Airtel is coming up with some exciting news these days like – Introduction of 4Mbps Impatience plans, Doubles Broadband speed at no extra cost, Brings iPhone 3GS, and now offering an unexpected blazingly fast speed broadband in India.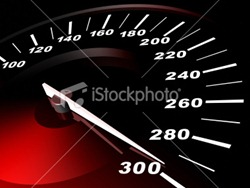 Bharti Airtel, India's leading private telecom services provider, announced to Offer an ultra fast 50 Mbps speed in select areas in Delhi and Gurgaon. It uses the VDSL2 technology, fastest wireline broadband on in India.
"We are delighted to introduce 50 mbps speed — the fastest, wired broadband service. This ultra-fast broadband connection will allow customers, the convenience to download songs in seconds and full length feature films in less than three minutes," Bharti Airtel Joint President (Telemedia Services) K Srinivas said in a statement.
VDSL2 (Very High Speed Digital Subscriber Line 2) is the newest and most advanced standard of DSL broadband wireline communications. It's designed to support the wide deployment of Triple Play services such as voice, video, data, high definition television (HDTV) and interactive gaming.
Tariff Plans –
@ Rs. 8999 per month, experience 50 Mbps broadband speed with free data transfer upto 200 GB and additional free VAS.
@ Rs. 7999 per month, experience 30 Mbps broadband speed with free data transfer upto 200 GB and additional free VAS.
Both the plans offer free value added services (VAS) like parallel ringing, website builder (basic), antivirus software, online storage and unlimited gaming on games on demand.
Our Verdict – Certainly, these high speed plans can let you download full length movies in a few minutes. E.g. a 700 MB movie in 3-4 minutes. But the plan charges are really high as they set a download limit of 200 GB, which is unacceptable.
Source @AirtelNews