When it comes to modding, HTC One is definitely not the most mod friendly phone. One reason is that the /system partition is write protected on the stock HTC One (M7) kernel, making it impossible to make customization or use a particular app that requires write access to system partition. An amazing app 'HTC One RW' by Team Trickster is now available on Google Play, that lets you make /system writeable in a single click! The app uses uses flar2's wp_mod.ko module, stericson's roottools and busybox binary to accomplish this task. Requires root access!
Requirements:
– HTC One (M7U, M7UL, M7WLS)
– Root (Refer: How to Root HTC One & Install Custom Recovery using Mac)
– Stock HTC kernel on Sense or GE ROM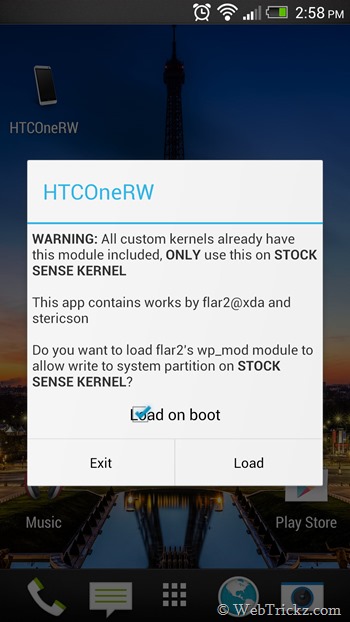 HTCOneRW helps HTC One users with stock kernel load flar2@xda's wp_mod.ko module to disable system write protection on the stock HTC One kernel. To make /system partition writeable, firstly install the app, then tick mark 'Load on boot' option and select Load (Grant Superuser access when asked). Then remount /system as rw and now write permission should be enabled on your /system partition.
Note: ONLY use this on Stock Sense Kernel
Download HTC One RW [Play Store Link]
Tip via [Armando Ferreira]