Apple's "Let's talk iPhone" keynote just took place at their headquarters in Cupertino but the event didn't really emphasize on the iPhone. The last-minute rumours turned out to be true when Apple unveiled just the iPhone 4S and no new iPhone 5. iPhone 4S comes with a specification upgrade and the design is entirely same as that of original iPhone 4. This media event wasn't much interesting and left the fanboys with a big disappointment. Apple also stated that they're launching iOS 5 to the public on October 12th.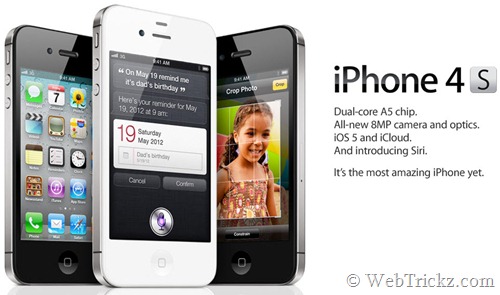 Apple iPhone 4S looks similar to the iPhone 4 but inside it's all-new. The new iPhone features a powerful dual-core A5 processor that is 2x faster and delivers up to 7x faster graphics than the previous iPhone. iPhone 4S has a great battery life – claims 8 hours talk time on 3G, 6 hours of Internet browsing on 3G, 9 hours on Wi-Fi, 10 hours of video playback, and 40 hours of music playback. "It can now intelligently switch between the two antennas between transmit and receive." That means no more call dropping issue.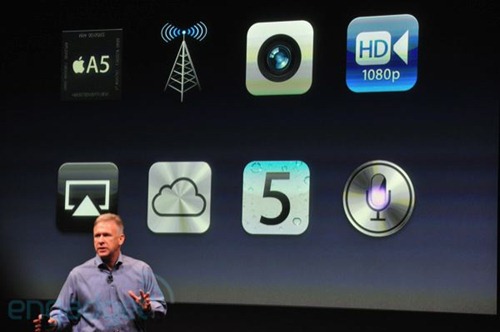 The 4S is both GSM and CDMA. There is a much better 8-megapixel camera on 4S with a resolution of 3264 x 2448 (60% more pixels). It's faster and one third quicker. The device supports 1080p HD video recording and offers Wireless mirroring as well. Apple has integrated a smart and intelligent functionality to iPhone 4S, that's called Siri. With Siri, you can get your things done just by asking. It's actually a voice recognition feature.
iPhone 4S – Official Intro Video
Availability and Price – iPhone 4S Pre-order starts from Oct 7th and shipping begins Oct 14th. The pricing of 16GB model is $199, 32GB is for $299 and 64GB costs $399. The device ships with iOS 5 that has over 200 new software features.