Apple has finally made an official announcement about the upcoming and much anticipated iPhone 5 event. Apple just sent out the invites for the Oct 4 event which has a tagline "Let's talk iPhone". This clearly states that the event scheduled to be held at Apple's headquarters in Cupertino will focus on the new iPhone!
Here is a preview of invitation: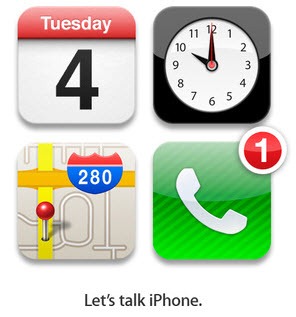 The next-generation iPhone (speculated as iPhone 4S or iPhone 5) would be revealed on Oct 4th and it is assumed that the device will start shipping from very same day. The timing for the keynote is most probably 10AM as depicted by the clock in the invitation. Let's see what Apple has to offer this time and delight all the tempted Apple fan boys.
via [Gizmodo]