Apple has recently updated its MacBook Pro line with a new upgraded hardware. The new powerful hardware provides a faster experience, faster HD graphics, long battery life and more. See what new Macbook Pro consists of:


New Core i5 and Core i7 processors – The 15 and 17-inch MacBook Pro features the fastest dual core Intel core i5 and i7 processors, which boost performance up to 50 percent (Turbo Boost). The 13 inch MacBook comes with faster Core 2 Duo processors.
Next-generation NVIDIA graphics – With faster graphics than ever before, MacBook Pro brings high performance to everything from 3D games to photos and videos.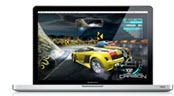 The 15 and 17-inch MacBook Pro models carries the new NVIDIA GeForce GT 330M discrete graphics processor — the fastest graphics ever in a Mac notebook. It is up to 30 percent more energy efficient than its predecessor, with 48 processing cores and up to 512MB of dedicated video memory.

Up to 10 hours of battery life – The new energy-efficient architecture in the new 13-inch MacBook Pro lasts up to 10 hours of battery life (8 to 9 hours on the 15- and 17-inch MacBook Pro) on a single charge.
Check the new line of 13, 15, or 17-inch MacBook Pro.