Apple has finally announced the most awaited smartphone of the year and as speculated it's called 'iPhone 5'. iPhone 5 is entirely made of glass and aluminum with a metal back that looks stunningly beautiful. According to Apple, iPhone 5 is the world's thinnest smartphone, measuring just 7.6mm thick (18% thinner than 4S) and it weighs 112 grams, being 20% lighter which is a crucial improvement. However, there is no significant visible change in the form factor of iPhone 5, the device retains same width but taller. No doubt it is remarkably thinner and lighter, get hands-on to experience the real difference!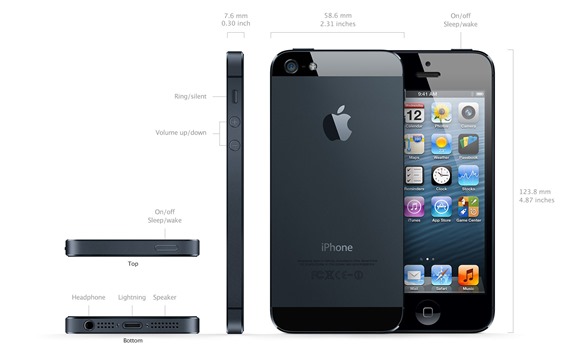 iPhone 5 features a 4-inch Retina display with a resolution of 1136 x 640 at 326 ppi (closer to 16:9), new A6 chip with 2X faster CPU and 2x graphics compared to the A5, supports 4G LTE, and an improved battery life that claims 8 hours talk time on 3G, 8 hours of Internet browsing on 3G or LTE, up to 10 hours on Wi-Fi, and 10 hours of video playback. The main camera with a 8-megapixel sensor packs a sapphire lens crystal cover, delivers better low-light performance and 40% faster image capture. It has a Panorama mode and one can now capture photos while recording a video. With iPhone 5, Apple has introduced a new dock connector 'Lightning' which is 80% smaller as compared to 30-pin connector, plus newly designed earphones called 'EarPods'.

Available in 2 colors – Black & Slate and White & Silver.
iOS 6 for iPhone 5 and other compatible iOS devices is coming on September 19th.
Price – The pricing of iPhone 5 is same. $199 for 16GB, $299 for 32GB, $399 for 64GB.
Availability – iPhone 5 Pre-orders begins Sept 14th. Shipping on September 21st in the US, Canada, UK, Germany, France, Australia, Japan, Hong Kong and Singapore.
Check the official list of specs here.
Update – Apple iPhone 5 Introduction Video