Apple has eventually announced the most anticipated device 'The new iPad', which surprisingly isn't termed iPad 3 or iPad HD as speculated by the entire blogosphere. The new iPad has taken a major uplift when comparing it with the original iPad and iPad 2. The new iPad features the stunning and gorgeous Retina Display with an extremely high-resolution of 2048×1536 (3.1 million pixels). That's double the resolution of former iPads and over 1 million more pixels when compared to a Full HD 1080p display. Also integrated is a re-designed faster A5X chip with dual-core CPU and Quad-core graphics.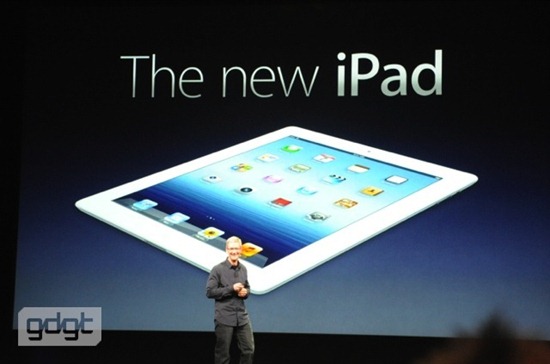 The new iPad comes with a 5-megapixel iSight camera, features auto-exposure, auto-focus, auto-face detection, great edge-to-edge detail, AF-lock. Designed with advanced optics, it lets you shoot gorgeous photos and supports 1080p HD video recording.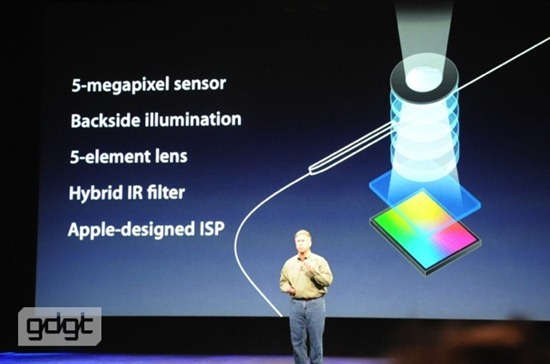 .
Additionally, it includes Voice Dictation (converts words into text) and 4G LTE to deliver blazing download and upload speeds. The new iPad delivers the same 10-hour battery life as in iPad 2. However, these new features has posed a slight increase in its thickness and weight which is not an issue. Comes with iOS 5.1, available for download now!
The new iPad Commercial
Video: The New iPad "Features"
Availability and Pricing – The new iPad Wi-Fi models will be available in black or white on March 16th. The suggested retail price in US for the 16GB model is $499, $599 for 32GB model, and $699 for 64GB model. Pricing for iPad Wi-Fi + 4G is $629 for 16GB model, $729 for 32GB model and $829 for 64GB model. The device is up for Pre-order now!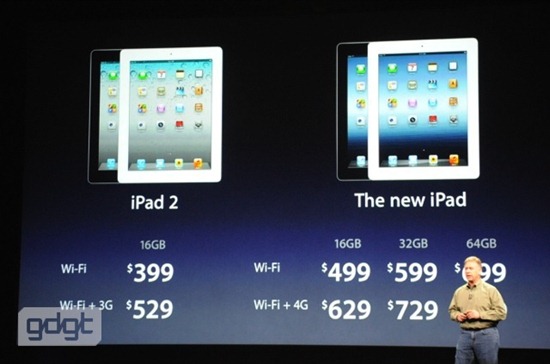 Great news is that price conscious customers can purchase iPad 2, a revolutionary and magical device still available at a more affordable price of $399 for the 16GB Wi-Fi model and just $529 for the 16GB Wi-Fi + 3G model in the US.
References:
Image Credit: gdgt