ArchView is an add-on for Firefox which can open archive file online without downloading the whole archive. It is very fast since as it merely fetches a small portion of the archive file from server. ArchView supports RAR, ZIP formats and ISO CD image; HTTP, FTP and file protocols.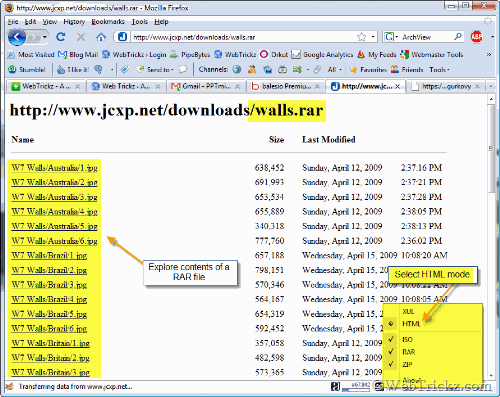 It is really useful as you can preview and download an individual file without download the whole archive, since it only fetch the necessary portion. Using it you can easily ignore the files you don't need and download the ones that are required.
It is very easy to use. Just click on a RAR, ZIP or ISO image file and it will explore the contents inside that file along with there size. Now click the files you need to download. It will also help you in saving your time and bandwidth.
ArchView sits in Firefox status bar

. It presents XUL or HTML interface. You will need to Right click and select HTML mode to use it. To disable it, simply click on its icon and it will look like this.

Download ArchView Firefox Extension