Astrill is a new, effective and simple to use VPN service, currently in Beta stage. It allows you to surf the Internet anonymously and that too at very fast speed. Users can change their country to US or UK and enjoy privacy with encrypted connection. The app is standalone and doesn't need to install.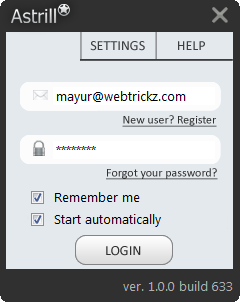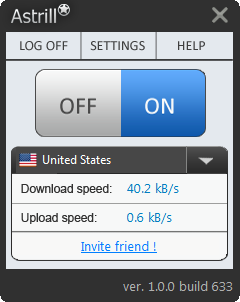 Astrill is very helpful for people whose regions are restricted from watching videos on Hulu, access to social networks and other sites which are blocked. Astrill bypasses any kind of firewall or filtering – no more censorship. There are no data transfer limits and Astrill team aims to provide an excellent support to their users.
Key Features:
Access Internet from any place at any time
Enjoy privacy with encrypted connection
View both HTTP and HTTPS (SSL) websites anonymously
Lightning fast web surfing
Works with all major Browsers
No Ads
Supports Windows and Mac OS X
Astrill starts as low as $10.99 for one month and for longer-period purchases they offer up to 40% discount! Though, you can enjoy Astrill for FREE by signing up using the invite code or the private beta link below:
Beta invite code: ASTRILL-WEBTRICKZ-6E16E-NF3D3
UPDATE – Astrill has now added support for Mac OS X, and Linux. They are also working to support Apple iPhone and iPad, and other mobile devices with VPN capabilities.
Private Beta invitation code: ASTRILL-BETA-982973-K7CN4
Private Beta invitation link: https://www.astrill.com/register/6bfaf453