When Samsung released the first Galaxy phone, little did we know it would literally grow into a galaxy of phones, and there are countless phones under that branding! ASUS is setting its baby steps along those lines with its Zenfone 2 series (well, not as many as Galaxy thankfully!). If the many different models of the Zenfone 2 weren't already confusing enough here are a few more, but each of them is for a specific purpose. ASUS has now officially unveiled 3 more phones for the Indian market at their Zen Fest, lets look at what each of them comes with and what do they cost before we jump into which one should you get for what (eeks! that was as long-winded as the Zenfone 2 range of phones). 🙂
Zenfone 2 Laser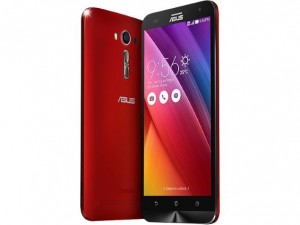 More and more phones are coming out there that are so centric on catering to the shutterbugs. One of the key features that some flagships like LG G4 and now the OnePlus 2 have started with is the "laser focus" that helps in getting a lock on the subject much faster thus allowing for easier and faster clicking of pictures. This is exactly what the Zenfone 2 Laser will be all about – allowing for clicking pictures much faster.  ASUS claims that Laser will latch a focus on the subject within a fraction of a second – 0.5 to be precise, thanks to its Laser Auto Focus. However, the combination of the camera will be similar to the ones found on the higher variants of Zenfone 2 – 13MP rear shooter built off 5-piece largan lens, f/2.0 with a dual-LED flash and an 85 degrees wide-angle 5MP front shooter.
This phone comes in two variants, one with a 5.5 and 6 inches HD screen that packs in 294 PPI and comes with Gorilla Glass 4 protection. While the 6 inches variant comes with Qualcomm 615 Octacore processor, the 5.5-inch variant comes with 2GB and 3GB variants powered by Snapdragon 410 Quad Core 64 Bit and Snapdragon 615 Quad Core 64 Bit respectively. With 16GB of internal memory that can be expanded up to 128GB of external memory via microSD, the Laser comes with a 3000 mAh of battery. The phone weighs close to 170 gms. Running on Android Lollipop powered Zen UI the Laser supports dual SIM, both of which can support 4G LTE.
ASUS claims it has redesigned the surface of the back of the phone and is now no more slippery. The phone comes in Black, White, Red, Silver, and Gold colors.
Pricing:
ZE551KL Laser 5.5 Inch 3GB RAM with SD 615 – 13,999INR
ZE550KL Laser 5.5 Inch 2GB RAM with SD 410 – 9,999INR
ZE601KL Laser 6 Inch  – 17,999INR
Zenfone 2 Selfie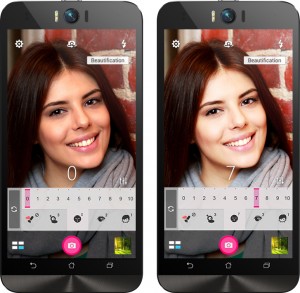 As the name indicates, the Selfie is essentially the Zenfone 2 Laser but the front camera coming with a 13MP autofocus wide-angle camera with a dual-tone LED flash! Now that is as powerful as it can get for a selfie. The screen too is much better on this one, being a Full HD screen with a 403 PPI. This variant is powered by SD 615 Quad-Core processor and a 3000 mAh battery as well. The colors available for Selfie are Pure White, Chic Pink, Aqua Blue, Glacier Gray, and Sheer Gold.
Pricing:
ZD551KL Selfie – 15,999INR
Zenfone 2 Deluxe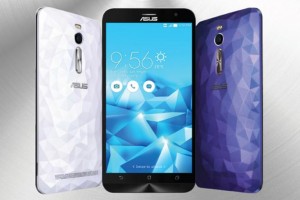 While the other two have mid-range Snapdragon processors, the Deluxe seems to be aimed at delivering a rock-solid performance with a 2.3GHz quad-core Intel Atom Z3580 processor with PowerVR G6430 GPU.  The display too is an FHD screen at 1920*1080 pixels but with TruVivid. The Deluxe comes with 64GB of internal memory that can be expanded up to 64GB via microSD. One of the specialties of this phone is the back has a unique diamond-cut design that gives it such a cool look!
Pricing:
Deluxe: 22,999INR
So that was another batch of variants of the highly successful Zenfone 2. We really loved the Selfie variant but the Deluxe has such a unique back and looks posh. All the previous variants of Zenfone 2 had Intel processors but this time around ASUS has chosen to go with mid-range processors of Qualcomm mostly to bring the phones at a much lower cost to compete with the other phones around the price range like the Moto G3, Xiaomi Mi4i, K3 Note and such.
Apart from these phones, Zenfone Max powered with 5000 mAh battery was also unveiled that will be arriving in October but the pricing was not announced.