Twitter is one of the most popular social networking and microblogging service, and my most favorite too. If you've an account on twitter, then it is advisable to backup your account, just in case twitter loses your important account data or your twitter account gets hacked.
Tweetstream is a free online service which allows users to easily backup their entire twitter account in a few clicks. Free plan lets you add up to 3 accounts, provides automatic weekly synching and 500 MB of storage. It preserves all your twitter info and lets you browse all data using its own interface namely: tweets, following, followers, favorites, mentions, and Direct messages. You can download the backup to computer, FTP or Amazon S3. It also shows 'Report' which reveals some amazing metrics.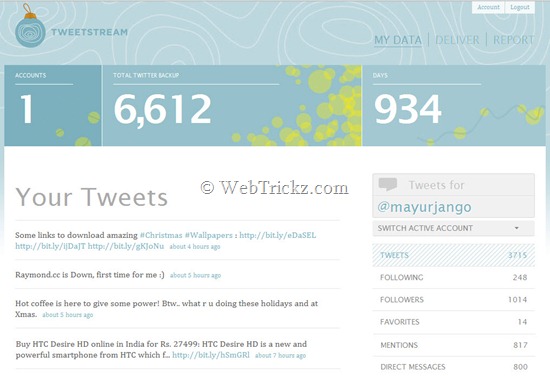 What's Included in your Twitter Backup file:
All your tweets (timeline)
Everyone you follow (following)
Everyone who follows you (followers)
All your favorite tweets
Every tweet mentioning you
All your sent and received messages (DMs)
Your account profile
Tweetstream uses OAuth and doesn't asks your twitter password to sign in. It takes some time to Sync and emails you when syncing gets completed. You can download your twitter account data as a backup using the 'Delivery' option.
Try it now: https://tweetstreamapp.com/