I've found a simple and 100% Free utility, which allows you to create the typical-looking barcodes on your own and print them anywhere.

Barcode 39 is the simplest and easiest bar code to use. It does not require a checksum, and lets you encode numbers (0-9), upper case letters (A-Z), and some special characters (space, $ % + – . /). It lets you print 3/9 on ID cards, documents, shipping labels, stock cards, or you can print sheets of labels.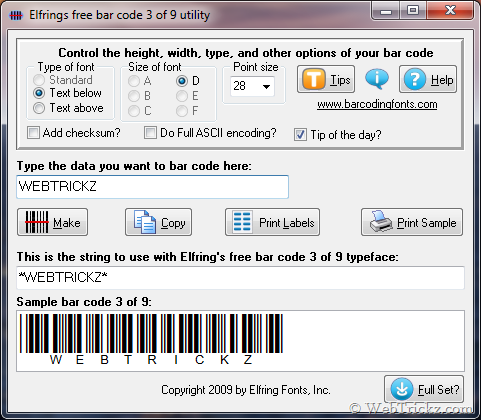 It also offers a completely free code 39 barcode font set that comes with TrueType and OpenType fonts. This barcode package includes human readable (bar codes with text or numbers either above or below the barcode) versions of code 39.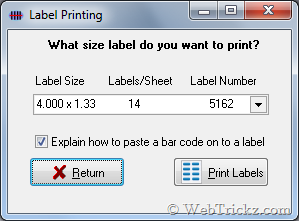 Barcode 39 Features:
Includes: human readable (top or bottom) versions
Data Type: Alpha-Numeric, (A-Z, 0-9, space, $ % + – . /)
Checksum: Optional
Bar Code Length: Variable
Wide/Narrow bar width ratio: 3.0
Font Formats: Windows OpenType and PostScript
Requires: Laser or inkjet printer with at least 300 dpi resolution
Works with: MS Word, MS Excel, WordPerfect, MS Access, MS FoxPro, PageMaker, Illustrator, Freehand, Quark Express, Corel Draw, and many more.
PDF Files: These fonts will embed in a pdf file, with restrictions.
Supports: Windows 7 or Vista/XP/2003
Download Free Bar Code 3/9 (1.5 MB)