Battery Health Monitor is a free utility to monitor battery status for MacBook, MacBook Pro, PowerBook and iBook owners. It monitors virtual all battery health parameters and displays them in an easy format.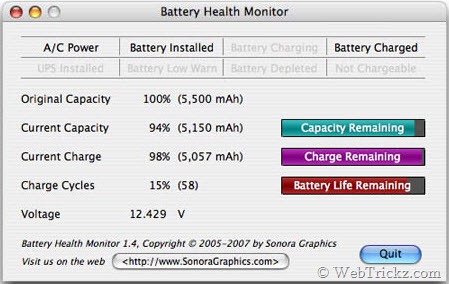 It displays battery status like:
Original capacity is an indication of the battery's storage when it was new
Current capacity indicates how much that original capacity has changed with use
Current charge shows the battery's current charge state
Charge Cycles indicates charge/discharge cycles the battery has experienced.
Download Battery Health Monitor for Mac OS X (3.8 MB)
For Windows users: BatteryCare – Free software to monitor Laptop's battery