BatteryCare – Free software to monitor Laptop's battery
Previously, we have discussed about Battery Bar which helps you track the charging status of you laptop or notebook battery. Now, I've found a new tool:
BatteryCare is a software created to optimize the usage and performance of the modern laptop's battery. It monitors the battery's discharge cycles and helps increasing it's autonomy and improving it's lifetime.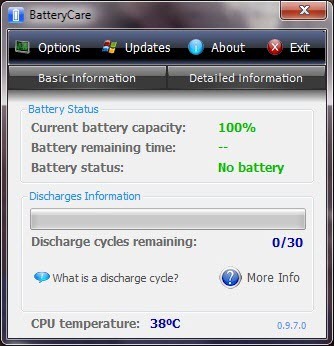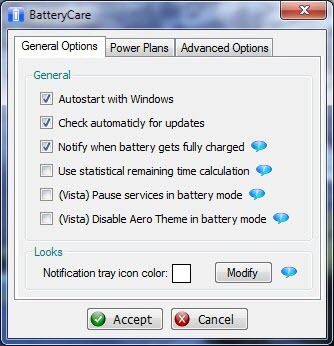 Key Features:
Battery's discharge cycles monitoring

The advanced algorithm accurately records when a complete discharge cycle is performed.

Complete battery information

Shows all the detailed information about the battery, such as wear level, capacities, consumption, manufacturer, etc.

Notification area information

In battery mode, the notification icon shows the remaining time and percentage of battery

Automatic power plans switching
Control over Windows Aero and demanding Services
Auto-updates
Lightweight in the system
Download Battery Care Free  (625KB)