Encrypt4all 1.0
Encrypt4all is a Windows™ File and Folder Encryption Utility.This Program is a powerful encryption program used to store your private documents into a single encrypted archive.Encryption is done via password input, The encrypted archive is shown as a *.e4a file. To extract contents , user must supply the correct password. The program is freeware.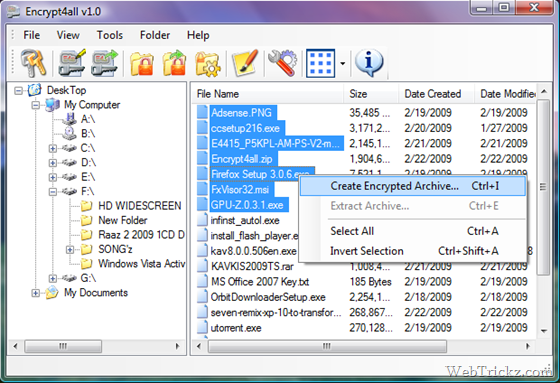 Features:
Encrypt4all implements a real bit-per-bit data encryption.
Many ways to protect your private documents.
Ability to encrypt any type of file (text, sounds, videos, etc…).
Ability to put all of your important files in one encrypted archive.
Ability to set password for encrypted archive.
Encrypted archive cannot be open without password (even if moved to another pc).
Is a powerful tool to encrypt strings files.
Ability to encrypt files larger than 2 gigabyte.
Ability to lock folders.
Ability to set password for locked folders.
Locked folders cannot be open in other PCs.
Folder protection just takes one second.
Ability to use multi-level protection for locked folders.
Ability to hide files and folders.
Ability to create global protected folder in every drive that you can copy/move your private documents to it.
It integrates nicely with Windows Explorer.
Program is password protected.
The program works on (Windows 9x, 2000, XP, 2003, Vista) 32-bit and 64-bit versions of operating systems. It also requires Microsoft .NET Framework 2.0 to work.
Download Encrypt4all  (1.8 MB)
ABC Lock v1.6
ABC Lock is a free and highly performed files security software that can hide or encrypt any number of files, folders and documents in seconds. Folders and files are protected with a password when you login the ABC Lock program .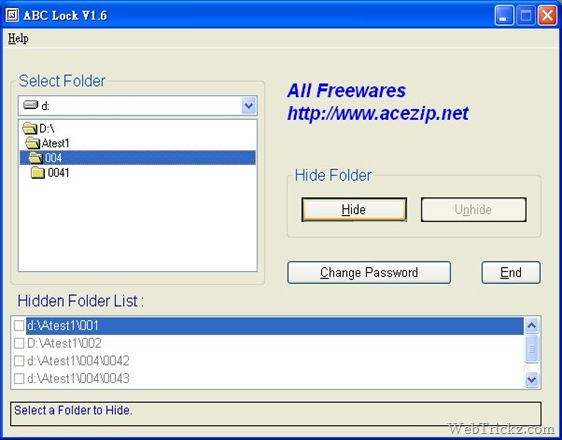 Protected files are undeletable, hidden and highly secured, hide files from kids, friends and co-workers, prevent them from viruses, Trojans, worms and spyware, protects them from networked computers, cable users and hackers.
Platforms: Windows 95, 98, ME, NT 4.x, 2000, XP
Download now!  (2.5 MB)
LockAnEXE is a freeware program lock and simple EXE security tool that lets you 'lock' down executable files including setup files and prevents them from being opened.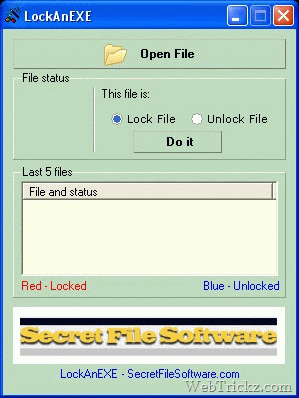 Download now!  (353.0 KB)