Now you don't need to search the whole web to Download Free content for your Mobiles, as I have gathered a list of handy sites where you can find stuffs related to your phone. All the sites below are free and contains material like mobile Wallpapers, Themes, Ringtones, Games, Software, tricks,etc.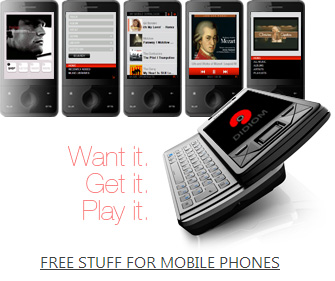 You can get stuff for mobile platforms such as JAVA, Symbian, UIQ Apps, Nokia, Sony Ericsson, Motorola, BlackBerry, iPhone, Windows Mobile and others. On certain forums you need to register for Free and download the content.
Best Websites to get Free Stuff for your Mobiles :
WEBSITES
www.zedge.net
www.gsmhacks.com
www.mobango.com
www.emobilez.com
www.symbian-freak.com
www.mobile9.com
www.getjar.com/software
www.rock-your-mobile.com
www.phoload.com
www.lasyk.net
www.funmaza.com/mobile_mania.html
www.thefreesite.com/Mobile_Phone_Freebies
FORUMS
www.ipmart-forum.com
www.nokiasoftware.net
www.mzmelody.com/forum
www.mobilesmania.com/forum/forums.html
Hope you liked these websites. This list will be updated timely with more useful sites.