We've earlier shared tools to remove fake antivirus and now Symantec has lately noticed similar activity overspread by fake hard disk scanners and defragmentation tools. These  disk cleanup programs seems real but are actually fake, may cause damage to your system, and urge users to purchase a useless copy of their utility which is actually Fake.
List of Fake Disk Cleanup Utilities by Symantec:
Ultra Defragger
Smart Defragmenter
HDD Defragmenter
System Defragmenter
Disk Defragmenter
Quick Defragmenter
Check Disk
Scan Disk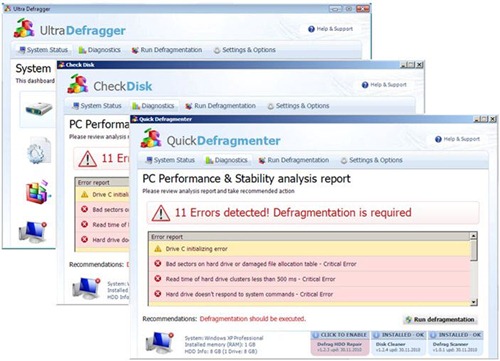 They catch users attention by showing a list of errors and warnings, prompts to run the defragmentation process, which then boots into a black "safe mode" (which is fake) and proceeds to "fix" some of the issues. Lastly, users are presented with pop-ups saying 'Fix serious issues' which on proceeding asks to buy a license copy.
Do let us know if you've ever caught hold of any similar fake programs.
via [Symantec & JKwebtalks]