Game Booster is a freeware tool, designed to help optimize your PC for smoother, more responsive game play in the latest PC games. Game Booster helps achieve the performance edge as available to highly technical enthusiasts. It works by cleaning RAM, temporarily closing background processes and unnecessary Windows services.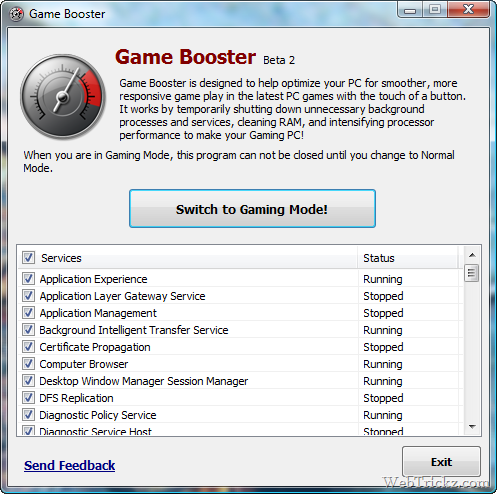 Key Features of Game Booster:
Game Booster is extremely easy to use. Its simple interface makes it a perfect tool for computer dummies.
Game Booster gives more CPU and RAM to your games, making your games running at the peak performance.
Increase Gaming Stability
Game Booster prevents and avoids possible conflicts and incompatibility.
Does not overclock your hardware, nor it changes your Windows Registry and system settings.
Game Booster is 100% freeware, without any virus, adware, and spyware.
Game Booster makes it simpler to enjoy the latest games and take your experience to a new level. Do give it a try out !  and experience the new gaming arena.
Designed for Windows Vista, XP, 2000, and Windows 7
Download Game Booster    (Size: 626 KB)