It is reported, Microsoft will be offering a 'Browser Ballot' in Windows 7 for Europe which will allow to select and install major listing competing browsers.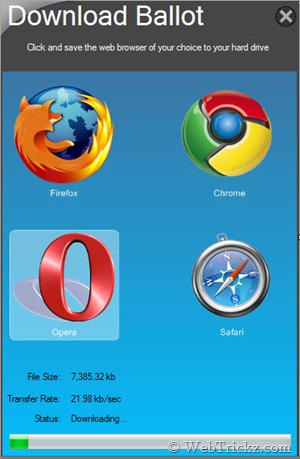 Certainly, I've found a similar tool which works like Browser ballot. You can use this tool to download all of the latest versions, the betas for Opera and Chrome, Firefox 3.5.x, Safari 4.2 easily.
This downloads the English language version of the selected browser, to a folder of your choice. No install required, just extract and run.
Requires Microsoft .NET Framework 3.5 Service Pack 1  [Check your .net version]
Works on All Windows
Download Browser Ballot  (350 KB)   via  [Deviantart]