Kaspersky products are certainly the best, they offer advanced and premium protection to your system against attacks posed by viruses, trojans, malware, cybercriminals, etc. The most popular Kaspersky Anti-virus and Kaspersky Internet Security programs have always been my favorite and I strongly recommend using one of them if you're seriously concerned about your PC's security which includes your private and important data.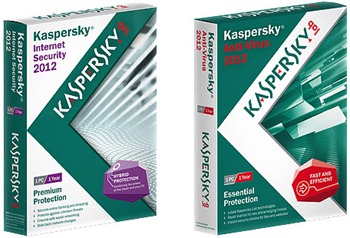 The latest 2012 version of Kaspersky security products were recently launched and are available in India. You can consider buying Kaspersky because it is fast, very efficient, offers enhanced security, frequently updates virus definitions, consumes less system resources that won't slow down your computer, and runs silently in the background.
Buy Original Kaspersky online in India –
Kaspersky Lab (India) sells 1 year 1 PC license of Kaspersky Anti-Virus 2012 for $39.95 whereas 1 year 1 PC license of Kaspersky Internet Security 2012 sells for $59.95. This converts to Rs. 1800 and Rs. 2700 respectively in Indian currency. However, exactly the same products are being sold at very low prices by several online shopping stores in India. (1 Year 1 PC KAV 2012 for Rs. 251 and KIS 2012 for Rs. 475 only.)
Hence, you can instead purchase Kaspersky from these stores and save good money! But do confirm the authenticity of the product and don't get fooled by some sellers who provide an activation code after you buy it. That's because they usually give an illegal license key which gets blocked or blacklisted after a while.
Flipkart, one of the popular and reputed Indian online stores is selling Kaspersky products at very low and reasonable prices. Their products are 100% genuine and are delivered as box-packed item, followed by FREE Home Delivery. Check the pricing below:
Kaspersky Anti-Virus 2013 (1 PC 1 Year) @ Rs. 260

Kaspersky Anti-Virus 2013 (3 PC 1 Year) @ Rs. 579

Kaspersky Internet Security 2013 (1 PC 1 Year) @ Rs. 499

Kaspersky Internet Security 2013 (3 PC 1 Year) @ Rs. 949
Visit here for a quick comparison between KAV 2012, KIS 2012, and Kaspersky PURE.
You can install a 30-day fully-functional trial to try this software before buying. They are very affordable and are really worth the money spent.
Do let us know which security program you use to guard your PC?