Android users in India are certainly unable to utilize the full potential of the Google Play Store as they don't have a vast choice of payment options to buy paid apps and games. Apparently in India, a very limited audience tends to purchase mobile apps and the rest opts for the unethical way to get them by downloading a cracked copy or an APK most of the time. Some do so willingly as they don't want to pay a price for the app which isn't wise considering the developer's hard work. However, some users who are willing to buy such paid apps couldn't do so due to the limited payment options on Google Play in India and the unavailability of debit cards and credit cards that support international payment. Well, carrier billing as one of the payment options could certainly be the most convenient way for users in India through which they can purchase apps, games, movies, etc. from Google Play by using their mobile network's postpaid plan or prepaid account balance.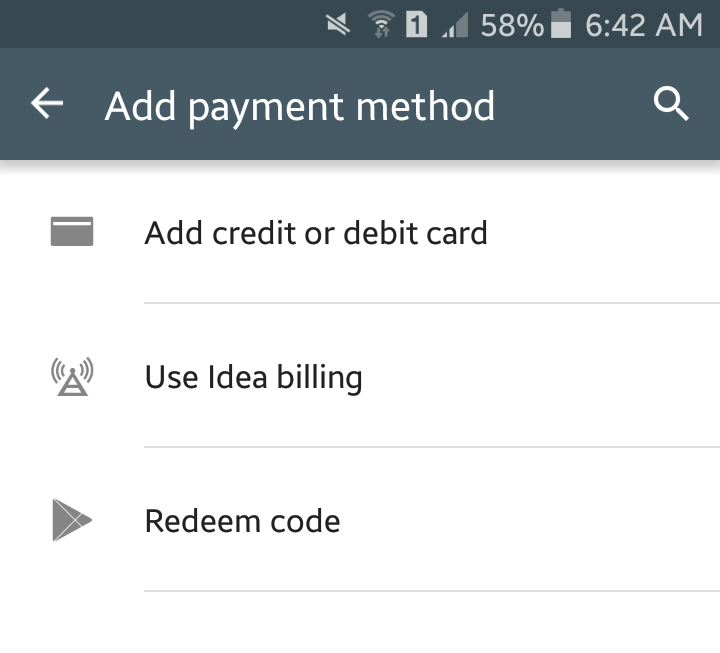 Fortunately, it looks like Google has finally planned to introduce carrier billing for Android users in India as some Idea cellular users have reported about 'Use Idea billing' as a new payment option in Google Play. The service currently seems to be active only for Idea users with Postpaid connection which is quite disappointing. In case you try it and it doesn't work then try checking it while your mobile data is enabled.
We really hope other mobile network operators in India like Airtel and Vodafone also adopt carrier billing soon thereby allowing users with a smooth transaction. This is perhaps the easiest medium to buy your favorite apps and games rather than pirating them. In case you're looking for a similar and alternate way then you can purchase Google Play gift cards which are now available in India in several denominations, both online and offline.
via [reddit]