Are you're tired off from your old laptop and are searching for people who can buy it ? Now you don't need to worry to sell your used or non-working laptops.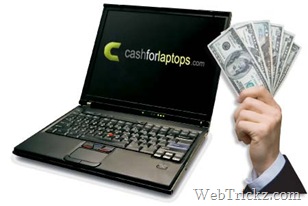 Cash For Laptops is an online service which helps individuals and businesses quickly and easily to buy their old laptops and turn them into cash. They have a perfect service over the years and the results are satisfied customers.
There service is friendly, professional and they are one of the industries most trusted and dependable laptop refurbishment businesses. Free Shipping – They pay for it!
Four easy steps to selling your laptop:
Fill out the Instant Quote online.
We rush you a pre-paid box and shipping label to send your laptop in.
You send us your laptop.
When they receive your laptop, they'll write you a check and mail it to you the next business day.
Try Cash For Laptops yourself – the easiest way to turn your used or non-working laptop into cash!  Sell a Laptop