CCleaner, small and free but much powerful optimization and cleaning tool for Windows is now upgraded to v3.0. CCleaner 3.0 includes a multitude of new features and changes, but the interface is tweaked slightly only.
CCleaner is a freeware system optimization, privacy and cleaning tool. It removes unused files from your system – allowing Windows to run faster and freeing up valuable hard disk space. It also cleans traces of your online activities such as your Internet history. Additionally it contains a fully featured registry cleaner.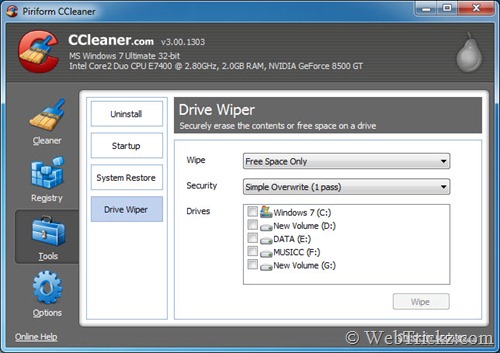 The 3.0 build adds a new "Drive Wiper" tool under the Tools section, which allows users to securely erase the contents or free space on a specified drive.
Changes in v3.00.1303:
– New CCleaner 64-bit native EXE.
– New UI graphics and icons.
– New internal scanning architecture.
– New Drive Wiper tool screen under Tools section.
– New Intelligent cookie keeping functionality.
– Improved support for IE9.
– Improved support for Google Chrome.
– Improved HTML5 Database Storage cleaning.
– Added support to clean Microsoft Silverlight Isolated Storage.
– Added support for AVG AntiVirus 10.0, Audacity, LogMeIn Hamachi, BitTorrent and Windows Game Explorer.
– Improved support for Vuze.
– Added new environment variables: %SystemDirectory%, %SystemDirectory32% and %SystemDirectory64%.
– Improved Registry backup to address problems when saving values.
– Improved cleaning Windows Log Files for 64-bit OSs.
– Many UI improvements and bug fixes.
Supports – Windows 7, Vista, XP and 2000. Both 32-bit and 64-bit versions.
Download CCleaner 3.0  [Portable version also available]