Over the last few days, you must have came across all the fuss about Carrier IQ, a certain piece of software claimed to be factory installed on various smartphones, to access all the private and sensitive user data that is transferred through the phone to carrier without users consent and knowledge. This is pretty concerning for most users as this analytic tool invades their privacy by logging the keystrokes, tracking location, recording calls, and is also able to intercept your entire text messages.
Lookout Labs has just released 'Carrier IQ Detector', a simple app for Android phones that allows users to easily check and determine if their handset contains Carrier IQ software or not. However, the app does not offers the ability to remove Carrier IQ software from your device because it's deeply integrated with device firmware, and requires special device permissions to remove it that isn't so easier for basic users. Its job is just to help non-technical users quickly check the presence of Carrier IQ on their handset. The app is available for free and requires NO ROOT.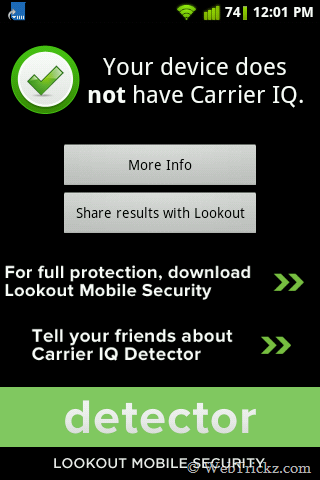 How to check if Carrier IQ rootkit is installed on your Android phone – Install Carrier IQ Detector and launch it. Then just see the listed results. If Carrier IQ is detected and you wish to remove it, then try looking for guides available on several forums such as XDA-Developer, etc. It is advisable to NOT proceed unless you find this really intruding.
Download Carrier IQ Detector  [Android market]
Reference: Carrier IQ: What it is, what it isn't, and what you need to know [Engadget]