IMEI number is assigned by manufacturers to their mobile phones. This IMEI (International Mobile Equipment Identity) number is used by the GSM network to identify valid devices and therefore can be used to stop a stolen phone from accessing the network or finding a lost phone.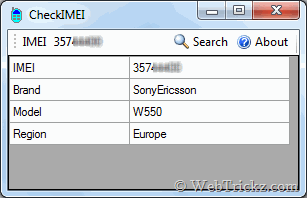 CheckIMEI is a simple tool that shows information about the manufacturer, model type, and country of approval of a handset. Just enter your mobile's IMEI and click Search.
To find IMEI no. just type *#06# from your keypad and see it displayed on your screen.
Download Check IMEI  (390KB)