Chromebooks available for Pre-order at Amazon & BestBuy
Last month, Google unveiled Chromebook built by Samsung and Acer at the Google I/O 2011 Developer conference. Chromebooks are Nothing but the Web, built and optimized for the Web, to provide users a faster, simpler and more secure experience without all the headaches of ordinary computers and everything is stored in the cloud.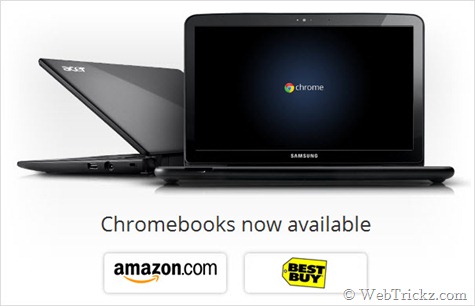 Samsung & Acer Chromebooks are now officially available for Pre-order from Amazon and BestBuy online shopping stores in the US. Samsung Series 5 Chromebook is available in 2 colors – Arctic White and Titan Silver, the Wi-Fi model is priced at $429.99 while the 3G model has a price of $499.99. Amazon also has stock of Acer Cromia Chromebook whose Wi-Fi model costs $379.99 while the 3G one costs $449.99.
Pre-order Chromebook at Amazon | BestBuy
Also See: Series of Videos demonstrating Chromebook Features