Today, I found a useful tool which lets you to Clean temporary files immediately or on login. This helps you keep your hard drive clean by deleting your temp files, run history, Internet explorer files, and other data.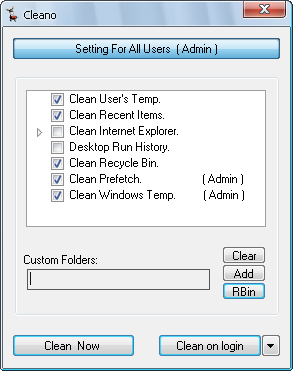 "Cleano" will allow you to fix:
Clean all chosens on login
Clean User's Temp.
Clean User's Recent Items.
Clean User's Internet Explorer.
Clean User's Desktop Run History.
Clean Windows Prefetch files.
Clean Windows temp.
Clean User's Custom folders
The interface is very simple and all you need is to check the items which are to be cleaned. You can either clean these files with the click of the button or clean them each time you login to your PC. Cleano is a single tiny executable file which makes it easier to use.
Download Cleano        via [Life Rocks 2.0]