ClearProg is a free and simple utility, which lets you simply delete all your Internet browser history. It is very helpful if you want to wipe off all your important browsing history without using the default browser options. It can rapidly erase your internet tracks and junk files.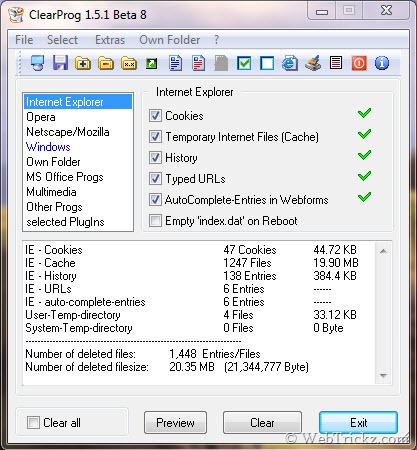 It can also clear Windows temp files and file lists of many other Microsoft programs.
Main Features of ClearProg
The program deletes the following browser tracks:
supported browsers: Internet Explorer, Netscape, Mozilla, Firefox and Opera
cookies (with exclusion possibility)
history
temporary internet files (cache)
the registered URLs
auto completing entries in web forms
download lists of the Netscape/Opera
The following things can also be deleted:
Recycle bin
document files in the starting menu
Windows temp files
execute entries in the start menu
file lists of ms Office programs
file lists of the Windows Media Player and the RealPlayer
own files with filter (can be selected)
System Supported: Win9x, Win ME, Win200, XP, Vista and Windows 7 too.
Supported languages: German, English, Dutch, France, Czech, Italian, Russian, Spanish and Thai