Comodo Cleaning Essentials (CCE) is a set of portable security tools that help Windows users identify and remove malware and unsafe processes from their infected computers. CCE is a free, lightweight, portable application which requires no installation and can be run directly from removable media like a flash drive.
Major features include:
KillSwitch – an advanced system monitoring tool that allows users to identify, monitor and stop any unsafe processes that are running on their system.
Malware scanner – Fully customizable scanner capable of unearthing and removing viruses, rootkits, hidden files and malicious registry keys hidden deep in your system.
You can either perform a Full scan or choose Custom scan if you want to scan only a particular file/folder/drive to check your system for potential threats like malwares, viruses and spywares. The tool updates automatically with the latest virus definitions.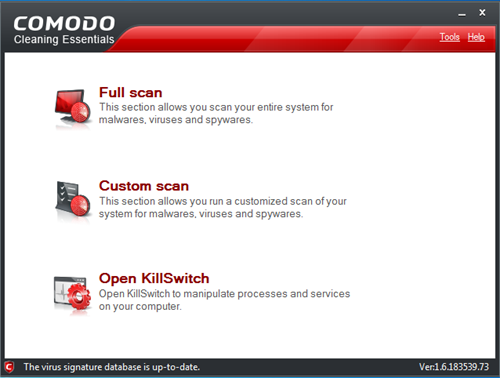 KillSwitch provides you with yet another powerful layer of protection for Windows computers. KillSwitch can show ALL running processes – exposing even those that were invisible or very deeply hidden. It allows you to identify which of those running processes are unsafe and to shut them all down with a single click.
Users can configure CCE by clicking the Tools -> 'Options' link at the top right. From there, you will be able to manage various functions such as scanning suspicious MBR entries, automatic virus updates setting, CAMAS (Comodo Automated Malware Analysis System) connection timeout, languages, create a restore point, and more.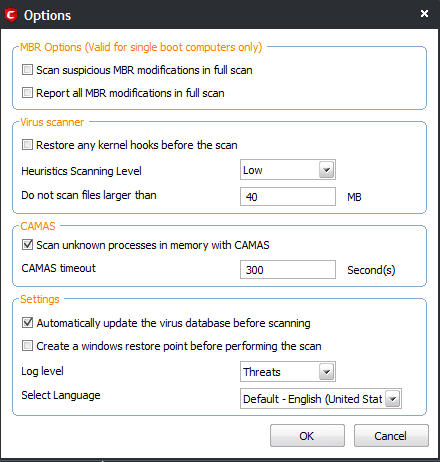 Note: Comodo Cleaning Essentials is an effective tool to manually scan your system and disinfect it from threats. It does not provides any real-time protection and therefore is not meant to be used as a main antivirus solution.
Supports: Windows 7, Windows Vista, and Windows XP (Both 32-bit & 64-bit version)