While sharing movies or important business videos with your friend or boss, WhatsApp size limitations will restrict you from doing it. Social media companies always limit file transfer size to ensure quick and efficient communication among all users. However, if you want to send large videos over the app's video size limit, you will need to compress video for WhatsApp.
This article lists some common tools you can use to reduce the size of a video for WhatsApp.
What is WhatsApp Video Size Limit?
The maximum size of a video that can be sent smoothly through WhatsApp is 16MB. That covers between 90 seconds to 3 minutes of video, depending on its resolution. Low-resolution videos generally have a smaller size than high-resolution videos.
To send a video larger than 16MB, you'll need to compress video files for WhatsApp. Though hundreds of video compressors are available to reduce video size, most of them also degrade the video quality during the process. We have picked some of the best options to help you do it without compromising on video quality.
How to Compress Video for WhatsApp Online for Free
VEED.IO
VEED can be used directly in your browser to compress a video for WhatsApp in just a few seconds. Once you upload the file, VEED will automatically select the best compression settings to retain maximum video quality. If you don't agree with the settings, you can customize them as well.
FreeConvert
FreeConvert allows you to upload and compress video files of up to 1GB. It uses H.264 and H.265 encoder methods to compress video files while maintaining their resolution. The online tool gives you a set of advanced settings, including compression method, encoder type, and target size for more specific compression.
Clideo
Clideo is a fast video compression tool that uses secure channels to compress videos. You'll be the only one with access to the videos and won't have to download or install any setup files. The interface is easy-to-use and it supports popular file formats like MP4, WMV, MOV, VOB, and AVI.
How to Compress Long Video for WhatsApp without Losing Quality?
Though online video compressors are readily available, they don't do a great job of retaining the video's resolution. Also, compressing multiple videos one by one can be a hassle. iMyFone AnySmall is a fast video compressor that lets you compress videos in bulk for platforms like WhatsApp and email without degrading video quality.
You can use AnySmall's WhatsApp compression mode through the following steps:
Step 1: Open the application and upload files
Download and launch iMyFone AnySmall on your computer and upload the files you want to compress. Select a location to store the compressed files on your computer. On the right-hand side, select the "16MB-For Whatsapp" option.
Step 2: Begin compression
After selecting your desired customization options, click "Start." All the videos will start compressing according to the chosen settings one by one.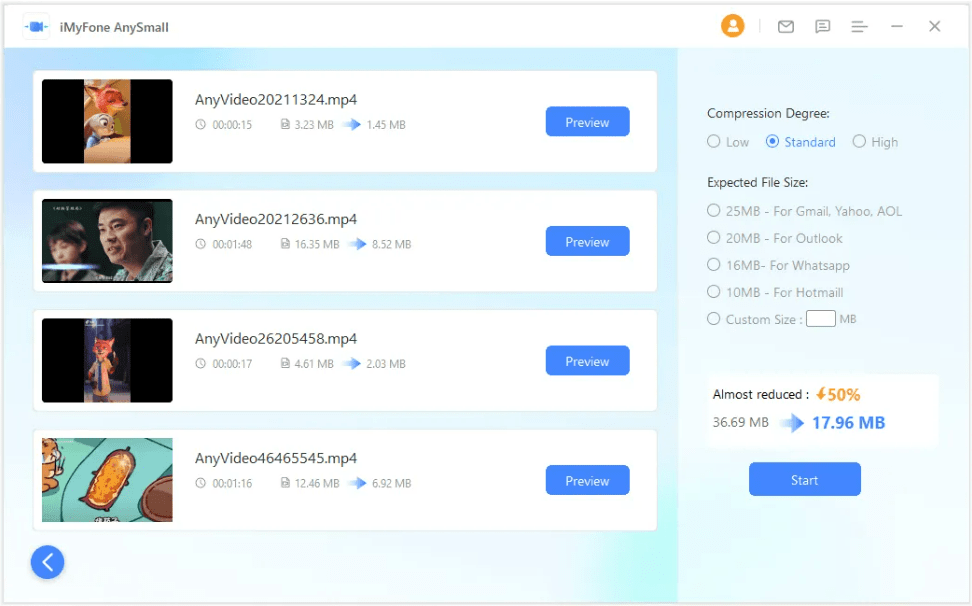 Step 3: Preview and send files
After all the videos are compressed to WhatsApp-compatible file size, you'll be able to preview your automatically saved files and send them on WhatsApp. The reduction in file size is also displayed.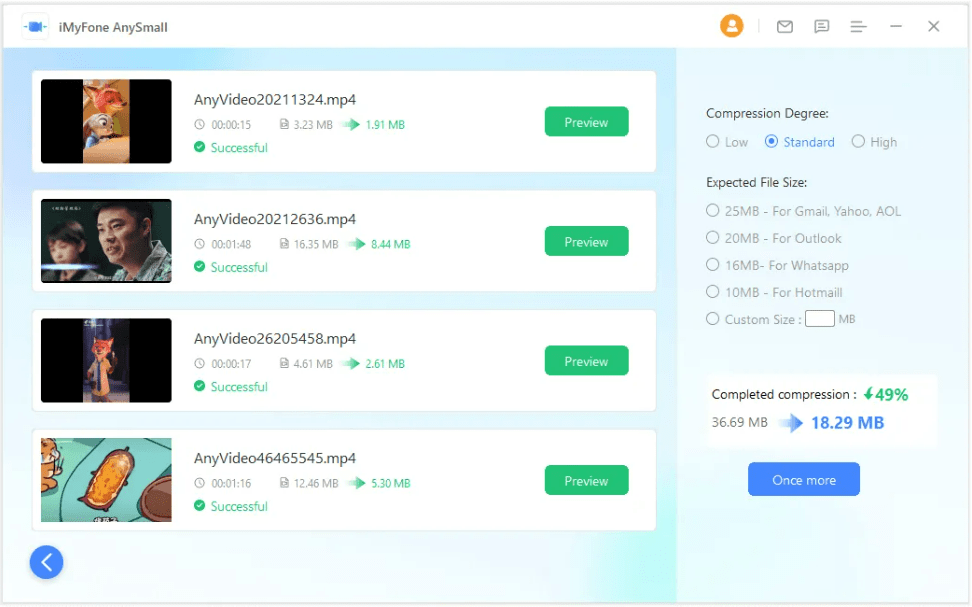 Key Features:
Bulk video compression
Compatible with both Android phones and Windows
Highly customizable compression options
Multiple compression modes
AnySmall App: Compress WhatsApp Videos on Android
If you don't have a PC or want to directly compress and store a video on your Android phone, AnySmall can help you with that too. For this,
Step 1: Open AnySmall and upload videos
Download and open the AnySmall app on your Android phone. To compress large videos for WhatsApp on Android, select the "For Free Upload" option. Select the videos from your phone you want to compress.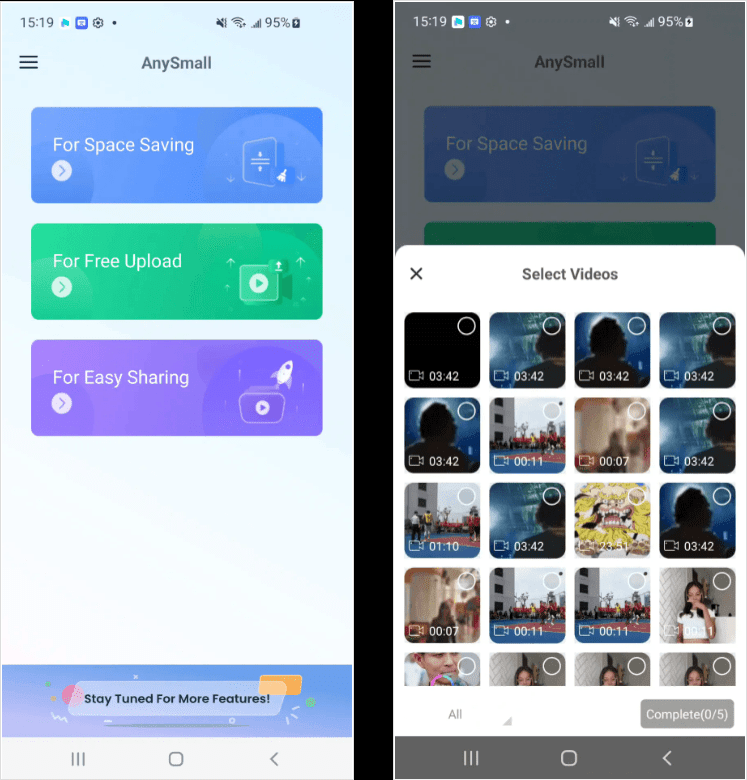 Step 2: Select compression settings and begin the process
After uploading the videos, you'll be asked to choose your desired file size. Select the "16MB – For WhatsApp" option and click "Start" to begin compression.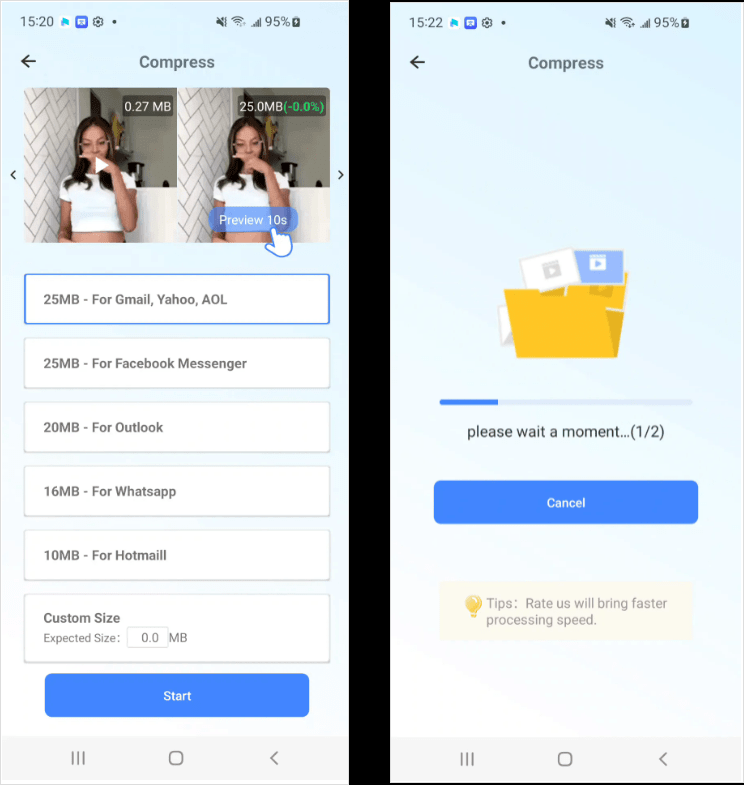 Step 3: View compression results
Once the compression is over, you can preview the videos and select where you want to save the files on your phone. You can also use the one-click "Share" option to directly send the compressed videos via WhatsApp.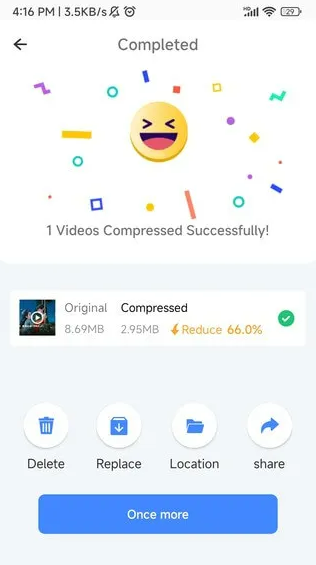 Bottom Line
With many video compressors available online, you can easily compress and send large videos on WhatsApp. But these free tools often don't have WhatsApp-specific compression settings and degrade the video's quality. It also takes a long time to compress multiple videos one by one.
Check out the iMyFone AnySmall video compressor to compress a batch of videos at once. The video compressor has pre-defined settings to compress your videos according to WhatsApp's video size limit without compromising their resolution.
A 1-Year license of AnySmall for Windows costs $19.99 whereas a Lifetime license comes at $29.99. A trial version is also available with certain limitations that you can try for free!