CopyTrans has just released their new product 'CopyTrans TuneSwift' which is absolutely free for early adopters, until March 15th, 2011. This portable utility saves time and frees you from the hassle of transferring all the iTunes data manually to some other system.
CopyTrans TuneSwift offers a simple and efficient way to Transfer, Backup and Restore your entire iTunes library from one PC to another. It is fast, easy-to-use, allows you to move your entire iTunes library, from Windows to Mac without converting anything. In a couple of clicks, users can easily transfer their complete iTunes library, which includes music, videos, apps, audiobooks, podcasts, iPhone backups, etc.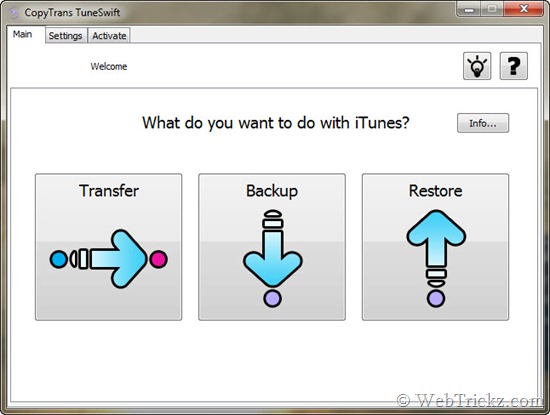 CopyTrans TuneSwift can:
Transfer the iTunes library from PC to PC and from PC to Mac
Move all data from iTunes, including music, videos, apps, books, podcasts, ratings, artworks and all playlists, etc.
Make full iTunes library backups or save only the latest changes
Load your new PC's blank iTunes library quickly and easily in, by transferring data from another computer.
Include iPhone, iPod Touch and iPad backups (apps, contacts, calendar, notes and SMS, etc.)
Move the iTunes library to any folder, computer, external disc, flash drive you want
Keep iPod, iPhone and iPad linked to the new iTunes library
Requirements: iTunes 7 and above, Windows XP/Vista/7 (32/64-bit), Mac OS X.
FREE for Limited Time – Just use the code: TUNESWIFT-ACTI-VATE-ME to activate it.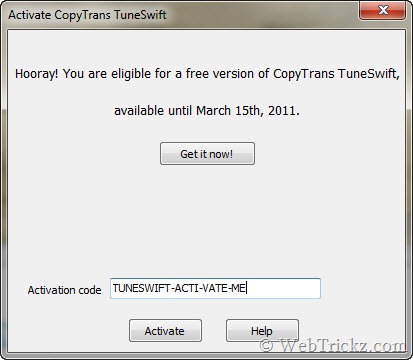 Download CopyTrans TuneSwift  (3.5 MB)
Check this link, if you want to restore your iTunes library from Windows on Mac.