Many users now prefer to Install an Operating System using a bootable drive instead of an Optical drive. This makes it easier to install Windows on Netbooks and systems which don't have a CD/DVD drive installed.
Koala is a free, small, and portable tool that allows you to create a self bootable USB thumb drive or pen drive to install Windows Vista, Windows 7, and Windows Server 2008. It has a simple and easy to use interface, using which one can create a bootable media in a few clicks, without running any commands.
How to Create Bootable USB –
1. Just insert your Pendrive and the supported Windows installation CD/DVD.
2. Extract and Run the tool, click the 'Scan' button for both Source and Destination.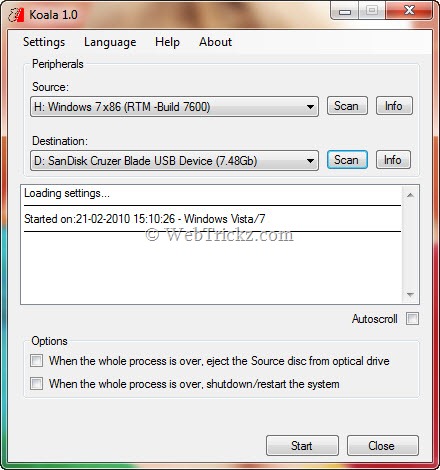 3. Click the Start button to begin the process. Press Ok on dialog boxes to confirm. Wait for a few minutes to let the process complete.
4. Upon completion, remove your USB drive. Restart your PC and set the boot settings to boot from USB in BIOS.
Note – Make sure to Backup All data presented on the USB device, because this tool will permanently erase it, in order to create a bootable drive.
Download Koala  (259 KB)
You can also use Windows 7 USB/DVD Download Tool by Microsoft, to Install Windows 7 from a USB flash drive or DVD.